TOKYO–Sansan, Inc. announces that more than 2,000 companies have begun using Eight Company Premium, an enhanced version of the Eight business card management app. Eight Company Premium is geared toward small- and medium-sized enterprises (SMEs).
This service lets Eight users share the business card information accumulated within their company or corporate group, helping them improve business efficiency and staff cooperation. Since its October 2017 launch, more than 2,000 corporate customers now use it.
■A gateway to DX through support for SMEs in adopting information technology
The COVID-19 pandemic has limited face-to-face meetings, both in and outside of business settings. Companies of all sizes have been pushed to change their employees' workstyles and sales methods. In a survey conducted by the Organization for Small & Medium Enterprises and Regional Innovation, Japan in July 20201, 75.9% of responding companies either reported a negative impact, or that they expected one, on their business performance compared with the same month of the previous year. This revealed SMEs are experiencing a particularly trying situation.
Amid this, digital transformation (DX) continues to attract attention as a way to enable business continuity and maintain and improve competitiveness. However, adoption of necessary information technology for this goal can be a challenge for SMEs, and this delays their execution of DX initiatives.
A survey conducted by the Japan Management Association2, into the DX initiatives taken by companies of different sizes, reveals that 83.2% of major companies, but only 34.9% of SMEs had already launched an initiative or were considering one. However, 10.7% of major companies and 43.2% of SMEs reported they would consider it in the future. These figures reveal that while SMEs recognize the importance of considering DX initiatives, implementation has been delayed.
Eight Company Premium is an enhanced version of the Eight business card scanning and management app. It features Eight's core functions, along with additional features enabling sharing and use of business card information within a company, organization, or team. It's easy for companies to operate and doesn't require high-level knowledge of IT tools or a complicated configuration process. At the same time, it's affordable, running as little as 10,000 yen/month. These and other benefits ensure that the barriers to introducing and operating Eight Company Premium are low, as SMEs face many issues, including shortages of funding, knowledge, experience, and IT talent. Since its launch, the service's focus has been supporting SMEs business activities. Recently, an increasing number of companies have adopted Eight Company Premium as an IT tool capable of serving as their gateway to DX, utilize their existing human networks previously managed by individuals and therefore underutilized, improve sales and marketing efficiency, accelerate establishment of BCP systems, and achieve other goals.
■Companies that have adopted Eight Company Premium
Eight Company Premium is used in a wide range of industries across Japan. They are distributed as follows.
・By industry
The largest number of users are in the telecommunications service industry, including advertising agencies and IT-related companies. This is followed by wholesale, business services (such as security and building maintenance), professional services (such as attorneys and accountants), and real estate.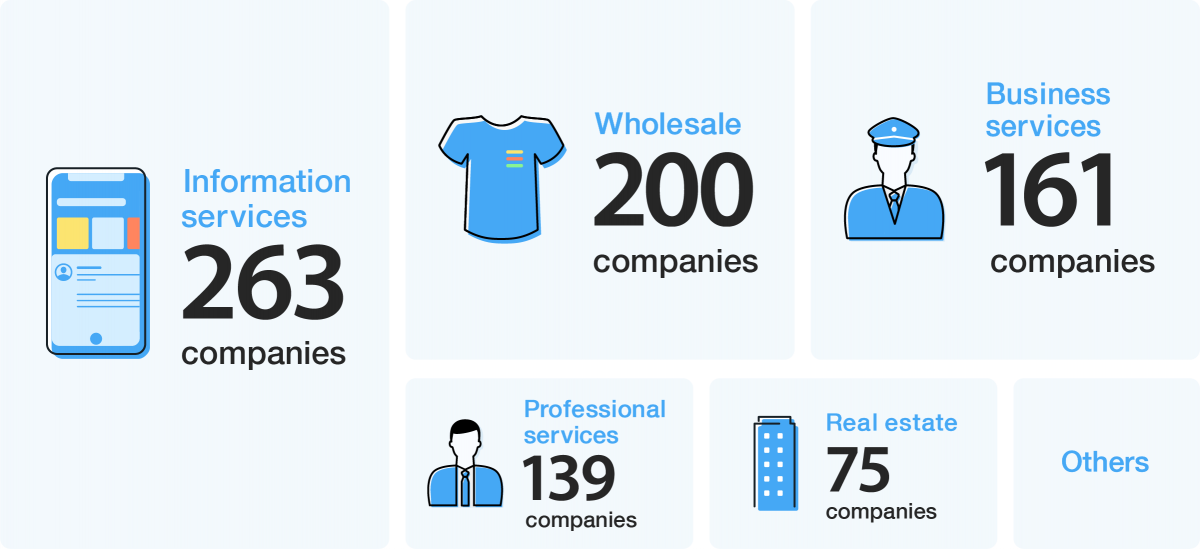 ・By companies' number of employees
Companies with fewer than 50 employees account for 60% of corporate users.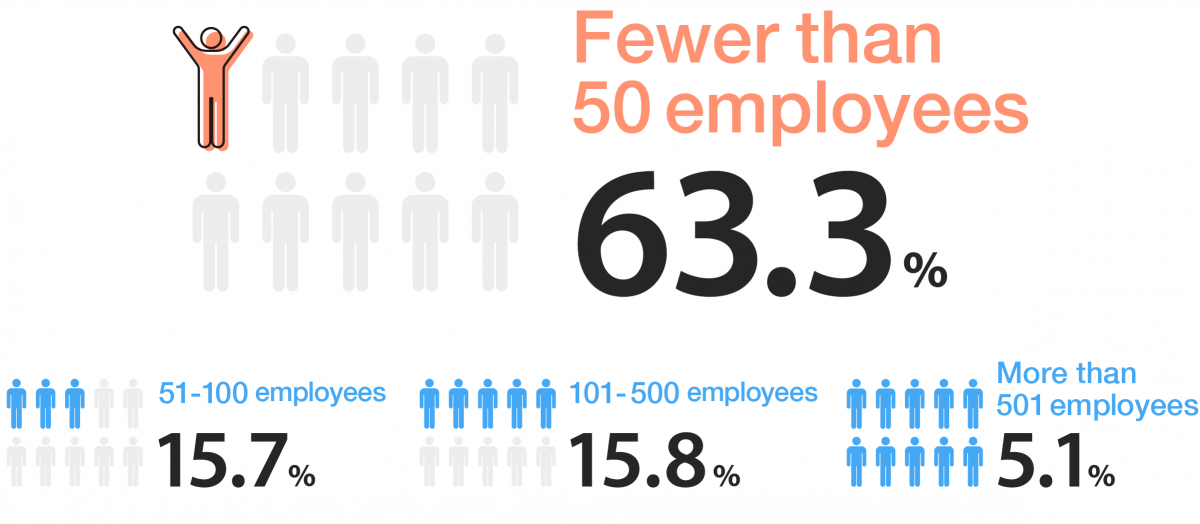 ・Geographical distribution
Eight Company Premium corporate users are distributed throughout all 47 of Japan's prefectures. There are especially high numbers of users in Tokyo and in other concentrated areas.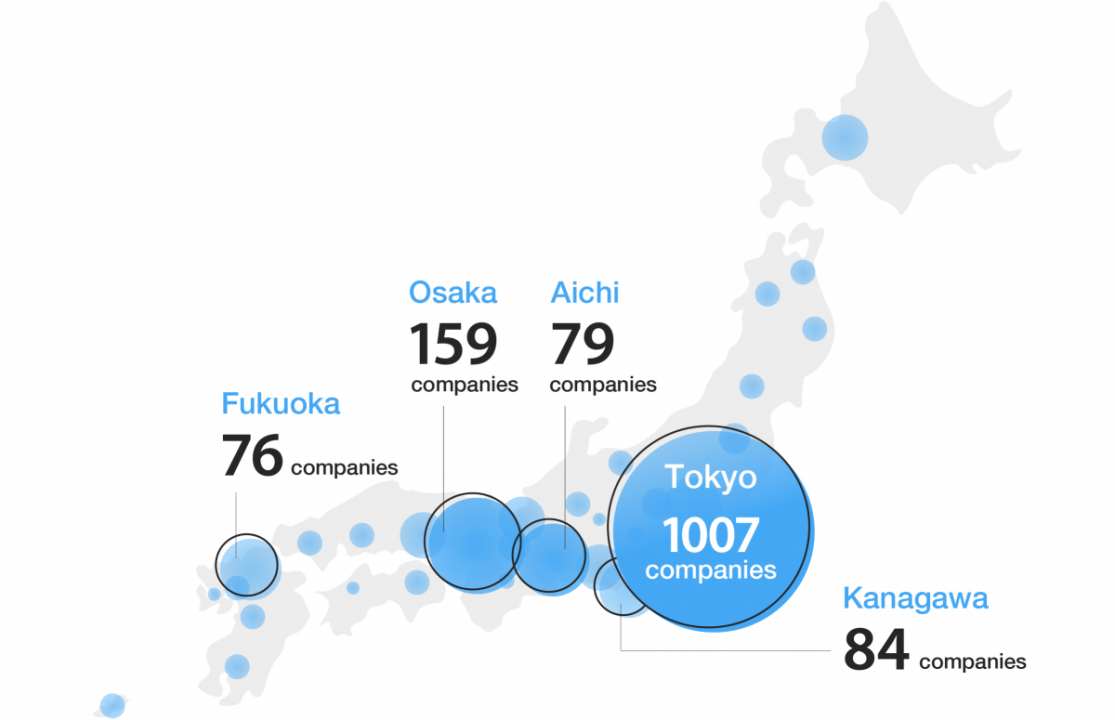 ■Comments from corporate users
(Mr.) Ryo Morita, Leader, FA Robot Business Department, Tokyo Belt Co., Ltd.
In the "70% economy," we face the urgent task of implementing DX to improve our business performance without increasing employees. Above all, we intended to use DX technology for customer visits; we decided introduction of Eight Company Premium would be our first step. This is because we believed that digitization of our sales system and various other systems would be essential for sharing, centrally managing, and using business cards, which were an internal resource.
Eight Company Premium is easy for anyone to use and can be smoothly expanded throughout a company. It's a system tool that can be effectively used as an introduction of DX. Most significantly, the business card data download feature can make it more efficient to provide information, including sending of invitations for online seminars. It also works very well with basic data for marketing. As we enter a new era, we expect new value to be created from the synergy between human networks and sales expertise that we have cultivated, using Eight Company Premium.
(Mr.) Yuki Muroga, Managing Director, Yawataya Isogoro Inc.
It's been 285 years since our founder began selling shichimi togarashi (a Japanese spice mixture containing hot pepper and six other ingredients) at Zenkoji Temple in the middle of the Edo period (1736). People's tastes and the business environment have both changed over time. We have developed a wide range of products and expanded our sales channels to satisfy the diversifying tastes and changes of the times.
We use Eight Company Premium to leverage the human networks we've developed through our visits to many places – such as our president's lectures in many parts of Japan, participating in trade shows, and expanding our business overseas. In the places we visit, Eight Company Premium enables smooth cooperation with our head office in Nagano Prefecture. Business card exchange has led to collaborative development of new products. While opportunities for domestic and overseas business travel have decreased, Eight Company Premium allows us to leverage our existing human networks and also our online encounters. Regardless of how the times change, we want to continue delivering shichimi togarashi to every table, and introducing the world to a culture of enjoying meals.
(Mr.) Takahiro Terui, President and Representative Director of Choeikan, an inn at the Oshuku Onsen hot spring resort in Iwate Prefecture
Founded in 1950, Choeikan is a hot spring inn that delivers the distinctive features of the area, strictly ensuring that its 100% natural hot spring water flows directly from the source, as well as local specialty goods and local craft products. Since I took over the business from my predecessor, we have made the business more efficient through fundamental management reform. I began using Eight myself to manage the large number of business cards I received at various places in Japan and in other countries that I had visited during sales activities. This was the catalyst for my thinking about how we could make efficient use of our human networks for business. And this led us to adopt Eight Company Premium.
Our business is all about human networks. Eight Company Premium has clarified employees' human networks, which facilitates communication for sales activities. It's also very useful when working together with travel agencies. The COVID-19 pandemic has drastically changed the environment of the lodging industry. Settings where we conduct sales activities have also changed significantly. For example, we don't have overseas business meetings. We still aspire to ensure that Choeikan is an inn of choice by leveraging the human networks that we have developed.
■Campaign commemorating Eight Company Premium's adoption by 2,000 companies
Sansan is rolling out a campaign commemorating 2,000 companies' introduction of Eight Company Premium. Sansan will offer the choice of one of the following free benefits to companies that become new subscribers to the service by January 31, 2021.
・Scanning and digitization of 10,000 paper business cards, provided by Sansan
・A scanner that can be connected to Eight
See the following (in Japanese) for more information about this campaign.
https://go.8card.net/2000_campaign
Eight Company Premium will continue evolving as a service expanding business possibilities by supporting improved productivity for SMEs, as their gateway to digital transformation.
■Notes
1 Organization for Small & Medium Enterprises and Regional Innovation, Japan
2020-nen 7-gatsu-do Shingata Coronavirus Kansensho-no Chusho/sho-kibo Kigyo Eikyo Chosa (a survey of the impact of COVID-19 on SMEs as of July 2020) (August 2020)
2 Japan Management Association, Nippon Kigyo-no Keiei Kadai 2020 (business issues of Japanese companies 2020) (September 2020)
■About the Eight App
Launched in 2012, Eight is a free-to-use multi-platform contact management and professional social networking tool for individuals. With just over 2.5 million registered users, it is the leading professional social network in Japan. Centered on business cards, it acts as a contact manager, as well as a powerful networking tool, thanks to powerful functionality including a home feed, user profiles and instant messaging.
■About Sansan, Inc.
With the mission of "Turning encounters into innovation," Sansan provides two key business card-based services: the eponymous Sansan; a contact management solution for corporations, and Eight; a professional networking solution for individuals. Sansan develops advanced technology to turn its users' business cards into powerful, shareable, and actionable data.
Established: 11th June 2007
Website: https://www.corp-sansan.com
Head Office: 13th Floor, Aoyama Oval Building, 5-52-2, Jingumae, Shibuya-ku, Tokyo, 150-0001, Japan
Capital: 6,236 million yen (as of May 31, 2020)
Business: Planning, development and sales of cloud-based contact management services
■Contact for press inquiries
Sansan Inc. Brand Communication Dept., PR Team (Ms. Taketa)
Email: pr@sansan.com; Tel.: +81 (0)3-6316-3121