TOKYO – Sansan, Inc., provider of a business database and related services that change the way people work, is updating its nonprofit organization (NPO) sustainability activities, supporting NPO's efforts, by launching its new Sansan for NPO Business Card Management Plan by Eight Team.
Sansan for NPO is an initiative of Sansan, Inc. to support NPOs' activities. Many NPOs have taken advantage of the offering since it was launched in 2016.
Under the new Sansan for NPO plan, the Eight Team business card management service designed for and used by over 2,000 small- and medium-sized enterprises (SMEs) will be provided to NPOs along with special benefits. A free scanner that can batch-scan business cards for digitization of their data will now be offered.
Refer to the following for applications and details of the plan (in Japanese):
https://jp.corp-sansan.com/csv/npo/eight/
Background of the new plan
In social contribution activities, it is important for NPOs to heighten recognition of their work and build long-lasting relationships with the range of stakeholders that includes governments and supporters. Yet NPOs, many of which are understaffed and under-resourced, face the reality of difficulties devoting time to regular messaging and stakeholder management.
The new plan enables use of the Eight Team business card management service for SMEs, with special benefits. Sharing business card information internally promotes business streamlining and coordination among staff, and enables business cards, which serve as proof of encounters with supporters, to be effectively utilized as organizational assets.
Main features of new Sansan for NPO plan
Business card information that individuals have accumulated in Eight can be added to a central database and shared with a team. When a received business card is photographed using a phone with the Eight app installed, or simply scanned using the dedicated scanner, the card's information is accurately digitized. Online business cards can also be used.
1. Business card sharing
Individually managed business cards can be shared within a team, so they can be searched for and used. Connections forged with supporters and encounters made through business card exchange can be leveraged for the organization's benefit.
2. Tag-based classification
Shared business cards can be organized using shared tags within a team. This feature improves searchability while enabling classification of business cards by intended use, and thereby enabling effective use of the cards' information.
3. Data downloads
Card information shared within a team can be batch-downloaded in CSV format. The CSV file can be used for activities such as sending email newsletters and gathering recipient information when sending seasonal greetings. This also facilitates effective use of the business card information maintained within a team.
4. Business card archiving (optional)
Even when a staff member is transferred or leaves an organization, the business cards they have shared with the team can be retained as an archive.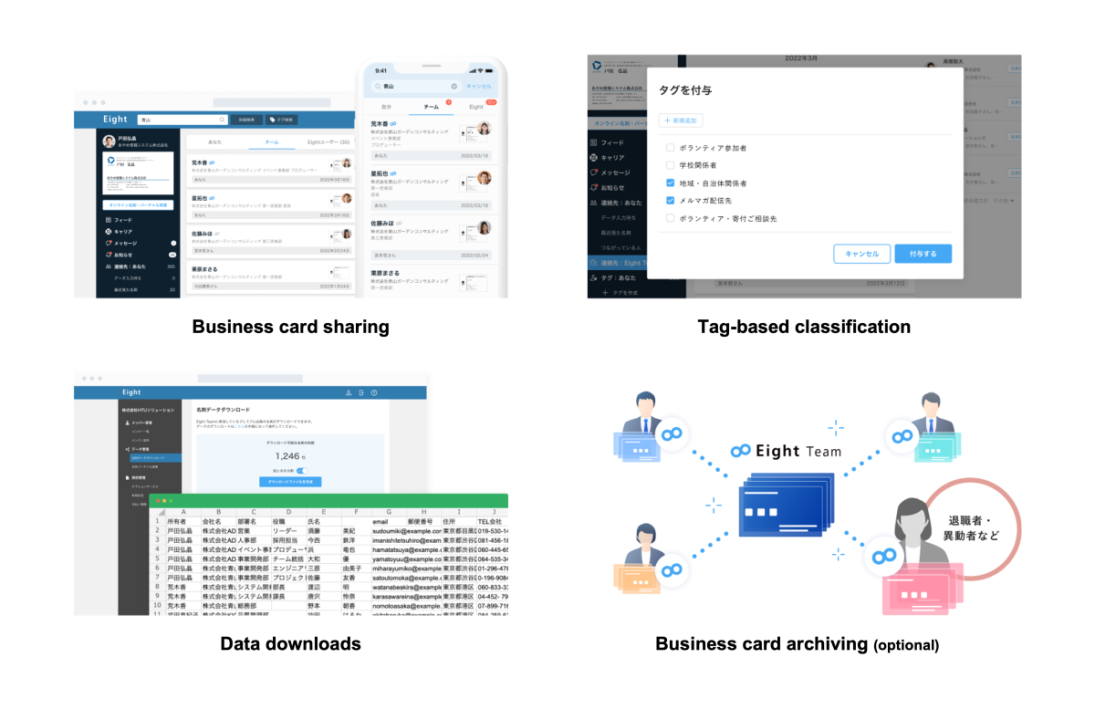 ■Plan Overview
Details: The Eight Team business card management service for SMEs is provided along with special benefits. The special benefit in the NPO plan is a free scanner that can batch digitize business cards.
Qualified organizations: Specified NPOs, public interest organizations (public interest incorporated foundations or associations), social welfare organizations, general incorporated organizations (nonprofit)
Terms of use: Must be a qualified organization as specified above and agree to the following(*1)
The organization name and logo can be used to show the organization is a client user of the plan.
It may take part in case studies and interviews as a client user of the plan.
Usage fees: Basic fee of 12,000 yen/month (excluding tax).
No account fees for up to 10 users; 400 yen/month (excluding tax) for the 11th and each subsequent user.
*The plan is an annual subscription and, generally, no mid-term cancellations are accepted.
See: https://jp.corp-sansan.com/csv/npo/eight/ (in Japanese)
Sansan will continue to conduct social contribution activities through its business.
*1: Only organizations that have passed a review conducted by a Sansan-designated entity will be eligible for the plan. Organizations already using Eight Team will not be eligible.
*Eight Team is designed for use in Japan. Please consider the namesake Sansan platform for overseas use.
Sansan for NPO, providing services to support NPOs' activities
As a part of its NEXT sustainability activities, Sansan uses its services to support NPOs' work. Sansan currently provides the Eight Team business card management service for SMEs, with special benefits under its NPO plan.
NEXT sustainability activities
Sansan is committed to sustainability-related activities that help resolve social issues through its core business. Based on the concept of "what we can do now, for the future," these efforts are collectively called NEXT.
Current NEXT activities include Sansan for NPOs, as well as the Scan for Trees tree-planting project, which returns digitized business cards and documents to the forest in the form of trees, and the Kodomo Meishi Project (Kids' Business Cards Project), which supports education for children via business card exchange.
For details about NEXT activities, see:
https://www.corp-sansan.com/csv/
■About Sansan, Inc.
With its mission of "Turning encounters into innovation," Sansan provides its namesake Sansan B2B service powering digital transformation in companies, the Eight career management app for individual professionals, Bill One for cloud-based invoice handling and management, and Contract One for cloud-based contract management.
Established: June 11, 2007
Website: https://www.corp-sansan.com
Head office: Aoyama Oval Building 13F, 5-52-2 Jingumae, Shibuya-ku, Tokyo 150-0001, Japan
Capital: 6,414 million yen (as of February 28, 2022)
Business: Planning, development, and sales of a business database that reshapes how people work
■Contact for press inquiries
Sansan Inc. Brand Communication Dept.
Email: pr@sansan.com